Six student teams won 2023 AIA Aspire Awards celebrating outstanding design and improves the quality of the built environment. AIA Aspire is a collection of the state chapters of Georgia, North Carolina and South Carolina.
The winning student teams were recognized at the AIA Aspire Conference in September 2023.
Designing for Resilience: Wendell Food Sovereignty Center
Award: Student Merit Award
Student: Justin Acevedo, Assoc. AIA, WELL AP
Supporting Faculty: Dennis Stallings, FAIA, Don Kranbuehl, FAIA, Andre Johnson, AIA
The essence of "sovereignty" is to have control over one's own situation. In communities such as Wendell, NC that lack control of their access to resources, the goal of a food sovereignty center is to design for resilience. This project looks at two applications of resilience: How can a food sovereignty center help the community overcome adversity? How can the building remain functional in adverse conditions?
Sequester | Extend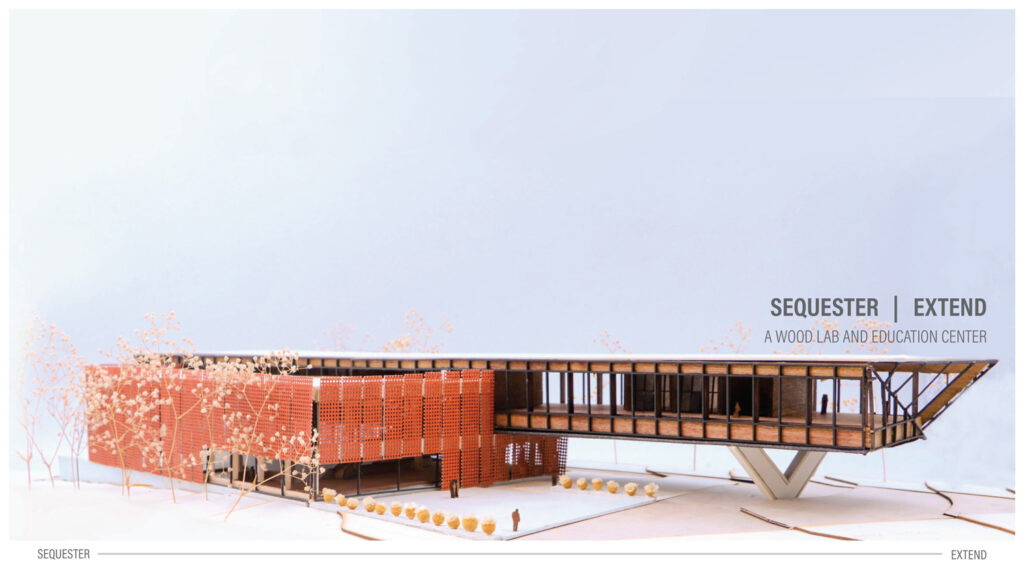 Award: Student award with a "Citation for Resources – Heavy Timber"
Student: Kinsley Stevens
Supporting Faculty: Joseph Burkett
The SEQUESTER | EXTEND Wood Lab and Education Center serves as a statement of action and encouragement to marry the practice of Forest Management to a local and sustainable mass timber market. Rooted in mass timber, it pioneers experimental construction while actively capturing carbon in its techniques. Its open, collaborative fabrication spaces, as well as classrooms and offices, foster interdisciplinary growth, blurring nature, design, and community. It stands as a testament to architecture's power in healing the planet, embodying a commitment to a carbon-neutral future, and leaving a legacy of responsible design to its community.
On the Edge: a Climate Adaptive Park for the Battleship NC Memorial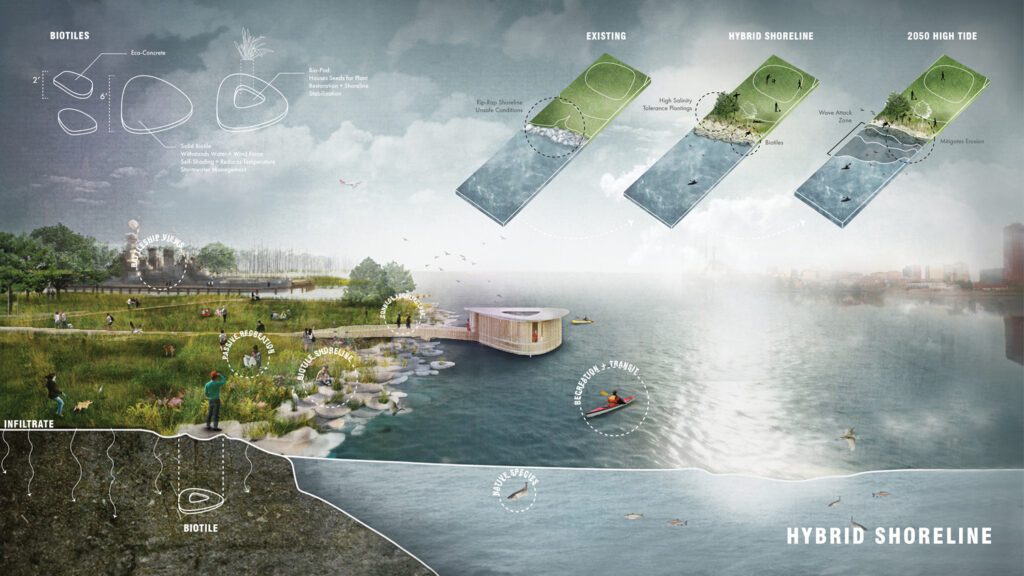 Award: Student Honor Award
Students: Stella Wang, Josh Gogan, Maggie Kroening
Supporting Faculty: David Hill, FAIA & Andrew Fox, FASLA, PLA
On the Edge proposes a redesign for the parklands surrounding Battleship North Carolina. The reimagined site celebrates a challenging narrative of place that reveal multifaceted histories while embracing infiltrating water. The new park transcends physical composition, serving as a dynamic memorial space connecting people, time, ecology, and climate through the goals of integration, adaptability, preservation, and restoration. The design proposes site-specific community amenities, including a Visitor Center, moveable Tidal Pavilion, Memorial Bridge, and hybrid shoreline. The result is a destination park that adapts to water as the climate and site shift, allowing the memorial to withstand the test of time.
Feeding A Community- Wendell Food Sovereignty Center
Award: Student Merit Award
Student: Lauren Waterman
Supporting Faculty: Dennis Stallings, FAIA, Don Kranbuehl, FAIA, Andre Johnson, AIA
Food sovereignty refers to the right of individuals and communities to have control over their own food systems, including production, distribution, and consumption. Within many small cities such as Wendell, NC, achieving this philosophy is difficult due to a lack of resources, accessibility, and infrastructure. To address these issues requires an understanding of the current conditions and character of the community. The proposed Wendell Food Sovereignty Center aims to empower the community and provide resources and education towards acquiring food sovereignty.
Spirituality + Light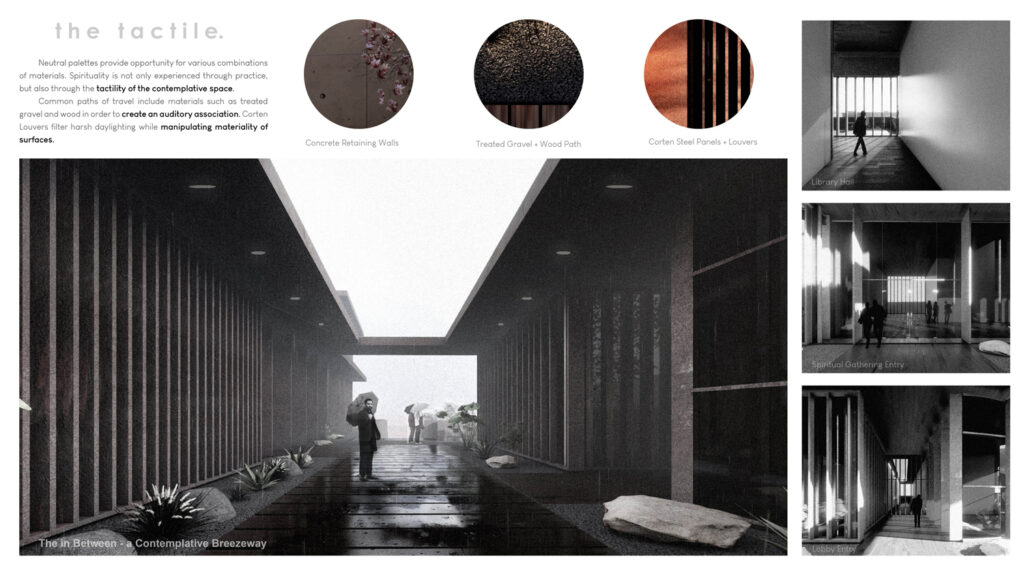 Award: Student Merit Award
Student: Brittany Bagan
Supporting Faculty: Thomas Barrie, FAIA
'spirituality + light' is a project which was created from the design challenge of needing a spiritual center on a historically non-religious university campus. By researching spirituality in today's context and taking into account the university's culture, the project is able to provide a sensorial experience that is respectful both to the user, the history, and to the site.
Durham Rising – Addressing Veteran Homelessness to Combat Veteran Suicide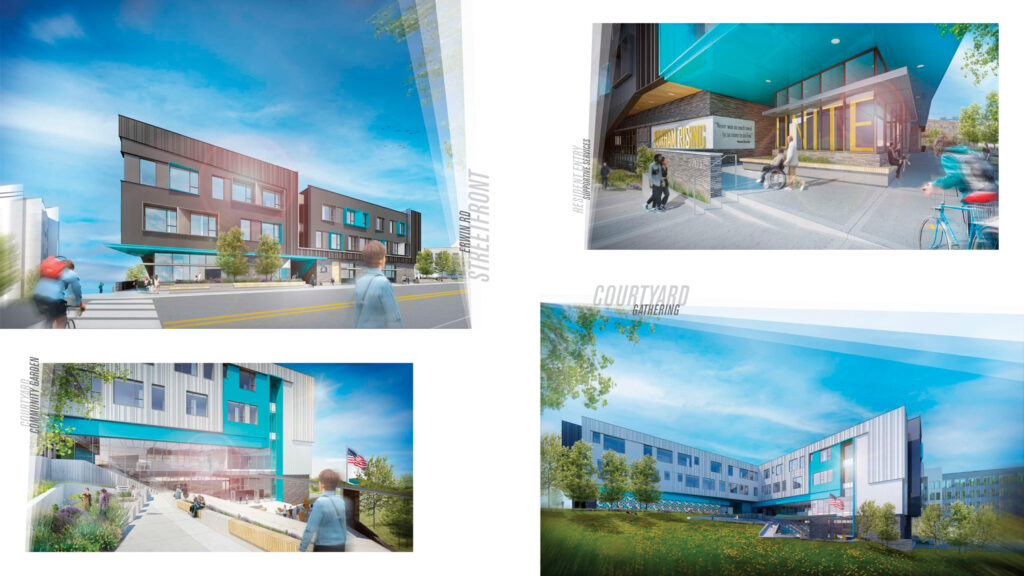 Award: Student Design Award – Equitable Communities
Student: Daniel Garrett
Supporting Faculty: Thomas Barrie, FAIA
Derived through a series of veteran-focused surveys and interactive workshops, Durham Rising is a sustainable, supportive, community-based housing typology that highlights the specific needs of veterans. By incorporating supportive services within the housing project, it gives the veterans a place to rebuild their sense of pride, self-worth and belonging, while utilizing the services necessary to find their path forward.
This post was originally published in College of Design Blog.