College of Agriculture and Life Sciences (CALS) graduate student Andrea Gómez Cabrera developed a connection to agriculture while growing up in Guayaquil, Ecuador.
"I grew up close to a banana farm where my father worked. The privilege of growing up on a farm and having access to healthy food opened my eyes."
Upon graduating high school, Gómez Cabrera knew continuing her studies in agriculture was the right path to take.
She was awarded a scholarship from the Ecuadorian government to study at Zamorano University, a well-known agricultural institution in Honduras, where she earned her bachelor's degree in agricultural sciences and production.
As an undergraduate research assistant in the Prestage Department of Poultry Science, she developed her passion for microbiology while working on research focused on molecular diagnostics and treatment strategies related to bacterial and protozoal infections in turkeys. She also worked at the Talley Turkey Education Unit.
Gómez Cabrera is currently pursuing her master's degree in plant pathology at CALS and is a graduate research assistant in the Phytobacteriology Lab, led by Assistant Professor Alejandra Huerta, Ph.D.
Her research focuses on understanding the functions and diversity of bacterial toxins deployed by plant pathogenic bacteria. The long-term goal of her research is to develop safe biocontrol alternative treatments to improve agricultural sustainability.
"I strongly believe that plant pathology scientific research is a strong step forward to a better future for crop production and protection."
Adjusting to a large university like NC State can feel overwhelming to any student, let alone an international one. To offset this challenge, Gómez Cabrera maintains ties to her Hispanic network through membership with AGEAP USA—a U.S.-based Zamorano alumni association that supports the professional development of Latinx alumni and students searching for internships and graduate school programs.
"These professional opportunities can seem inaccessible for minority groups, but I like to remind myself and the Latinx community that it is not impossible," she says.
Another way Gómez Cabrera eased her transition to NC State was by actively seeking out and utilizing resources from the Organization of International Services (OIS). "As an international student, I initially felt out of place, but OIS helps me to connect with people from Hispanic communities and other countries."
She also found new ways to connect with the broader NC State community while promoting Hispanic culture by volunteering at OIS's 2021 Global Tea and Coffee event and representing Ecuador.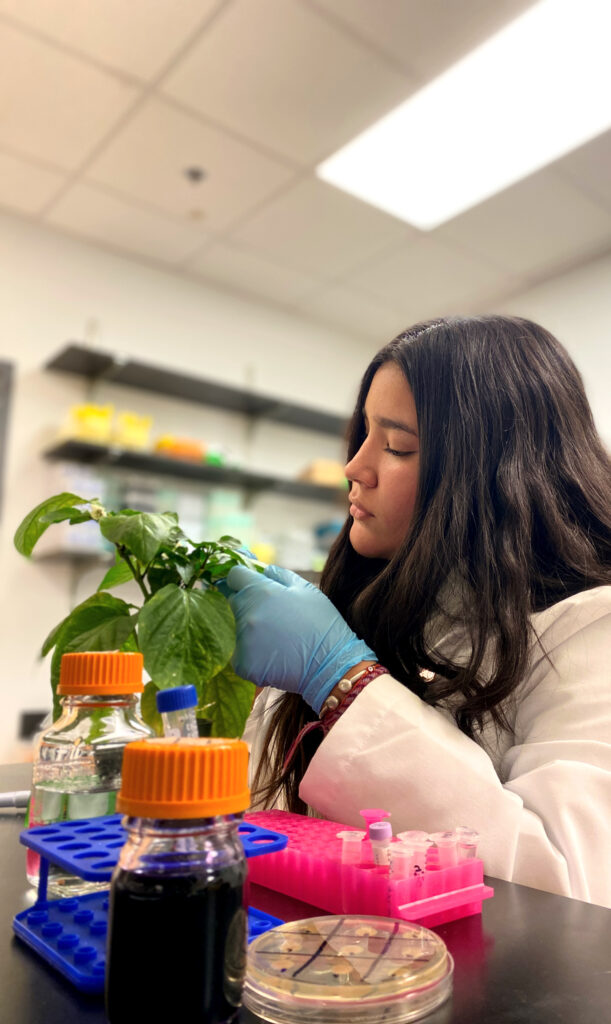 Whether sharing Ecuadorian meals with friends or cultural experiences with the NC State community, Gómez Cabrera feels honored to be a CALS graduate student.
"The professors I met in the Department of Entomology and Plant Pathology are inspiring, encouraging and brilliant," she says. "My research advisor, Professor Huerta, has greatly supported my professional development and interest in plant pathology."
In the summer of 2022, Gómez Cabrera and other members of Huerta's lab led a hands-on workshop with Latinx high school students to explain their research activities and to inspire the high schoolers to pursue STEM as a career option.
"I believe CALS needs bilingual, hardworking and outgoing professionals who can stress the importance of food security and help recruit new scientists to plant pathology," she says. "I'm so proud and glad to be part of it!"
However, Gómez Cabrera sees room for growth in the college's approach to diversity and inclusion. "CALS prides itself on having a population that is 55% female, but the college should also consider aspects of race, culture and ethnicity intersectionally."
She also believes that the CALS Office of Diversity and Inclusion (ODI) should work harder to increase the visibility of diversity and inclusion programming for students.
LaTosha Bradley, program manager for ODI, reassures that her office strives to cultivate an inclusive community for a vast array of departments and individuals.
"We continually aim to respond to the needs of our community, including making ourselves the most visible, most available and safest space upon which all the members of our learning and work environments can rely," says Bradley. .
The monthly CALS Community Conversations and the bi-monthly Conversations that Matter series are open to the entire CALS community. These open-forum talks promote diversity awareness and provide participants with a "safe to be brave" discussion space.
CALS ODI also facilitates programs designed for students, like CALS Diversity Ambassador and CALS First Generation Connect, that offer peer-led activities to help them navigate the ins and outs of NC State.
"Being a CALS graduate student isn't easy. You must get out of your comfort zone, be open-minded, be curious and learn as much as possible," says Gómez Cabrera. "But at the end of the day, it's rewarding to know that your research can contribute to science for a better future."
This post was originally published in College of Agriculture and Life Sciences News.