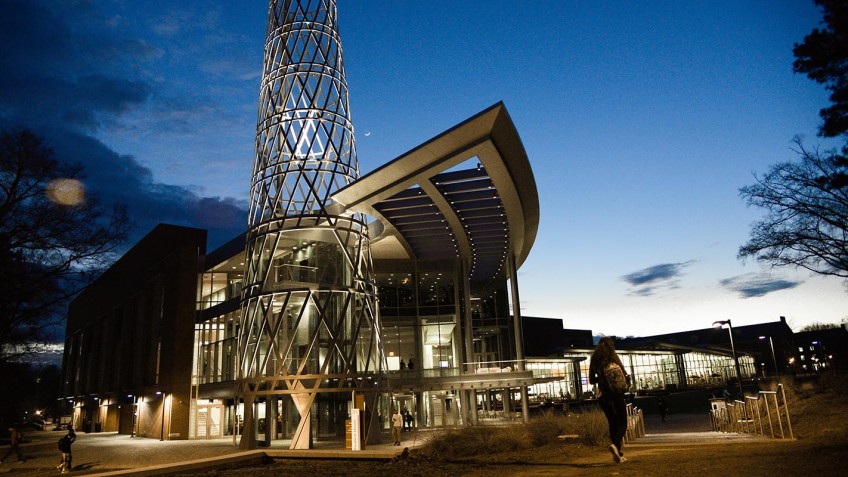 Talley Student Union is fully open, but the building still awaits placement of one final piece of glass: a plaque representing the building's national certification for sustainability.
Talley's design, construction and operations are under review by the U.S. Green Building Council for potential designation as a Leadership in Energy and Environmental Design (LEED) certified building.
"LEED certified buildings are designed for better impact on people and the environment. That's why NC State has committed that all new construction greater than 20,000 square feet will pursue LEED certification," said Liz Bowen, a University Sustainability Office program coordinator who focuses on sustainable buildings.
At 283,000 square feet, Talley is one of NC State's largest, busiest and most sustainably-designed buildings. Construction began in 2011 as a renovation and expansion of the former student center, which was built in 1972.
"Reusing an existing building reduces construction costs, landfill waste and the need for manufacturing new materials," Bowen said.
The renovation provided the opportunity to integrate numerous sustainability features such as an open design that maximizes daylight and occupant productivity, building materials that were sourced regionally or made of recycled content, and low-emitting finishes and furniture that preserve optimum indoor air quality.
The new Talley is equipped with high-efficiency plumbing fixtures and a 50,000-gallon, underground cistern that harvests rainwater for use in irrigation. The building's landscaping includes drought-tolerant plants that are native to this region, paved paths designed to reflect heat, and rain gardens that naturally filter and absorb stormwater. Even a portion of the roof is green.
"Green roofs, which are covered by a layer of plants, have been shown to reduce a building's cooling costs and impacts from stormwater," Bowen said. "These roofs require specialized infrastructure, which has already been incorporated into much of Talley's roof, creating the opportunity for more green roof space in the future."
Talley also features energy-saving, high-performance mechanical systems and windows, exterior shading and roofing material that reflects the sun. Throughout the building, environmentally-responsible cleaning products are used by University Housekeeping staff and many of the building's University Dining restaurants incorporate sustainable, local food grown by North Carolina farmers.
"We have not waited for the [LEED] plaque on the wall to take major steps to move beyond basic [LEED] certification," said TJ Willis, associate director of University Student Centers.  "With an average of approximately 20,000 visits a day, Talley has a unique opportunity to model and educate about sustainability in its operations."
One area of early success has been reducing the amount of landfill waste generated by users of the building. During construction nearly all discarded material was reused or recycled, and now that the building is open, composting and reuse programs are boosting the building's landfill diversion rate.
In fiscal year 2014-15, Talley added post-consumer composting — the first permanent location on NC State's campus — and when combined with University Dining and RAVE! Catering composting, a total of 26 tons of compostable material was collected and diverted from the landfill. The compostables were processed at a nearby composting facility into nutrient-rich soil amendment.
"If a building like this can successfully tackle these important challenges, other buildings on campus can follow Talley's lead," said Lauren McKinnis, outreach coordinator for NC State's Waste Reduction and Recycling office.
Talley also features solar-powered trash and recycling compactors, water bottle refilling stations designed to reduce use of disposable water bottles, and a wooden pallet reuse process that has returned more than 1,100 pallets to companies for reuse. Another Talley initiative eliminates the use of full-size trashcans in the building's office spaces so that employees better understand their personal waste stream. Results from a recent waste characterization audit in Talley will help guide other material-specific waste reduction efforts in the building.
A version of this article also appeared in a special edition of the Technician newspaper.