A mutually beneficial water reclamation project jointly run by the city of Raleigh and NC State's Centennial Campus will provide the university with a cheaper source of nonpotable water for irrigating the Lonnie Poole Golf Course and other uses on the 1,100-acre research campus.
Reclaimed water — wastewater that has been re-treated to render it fit for further use — is actually cleaner than the fresh water taken from Falls Lake and the Neuse River before it goes into Raleigh's water treatment plant. But reclaimed water does contain trace amounts of heavy metals and salts that can't be returned to the water supply because of state regulations. That doesn't prevent the use of reclaimed water — which costs about half as much as the city's processed drinking water — for many other purposes.
That's why the city has invested $5 million in building a reclaimed water line to the edge of campus, and NC State is spending $1.5 million to install a reuse water main on Main Campus Drive. When completed in December, the new main will provide reclaimed water for irrigation, for boilers and cooling towers in the central utility plant and even for flushing toilets in places like the Hunt Library.
"This is a real win-win for the city and for the university," says Jack Colby, assistant vice chancellor for facilities operations. "It reflects a level of cooperation on sustainability issues. This is one more way that we are reducing the cost of operating the campus without negatively impacting the quality of our programs.
"Over time, this is a project that will pay for itself."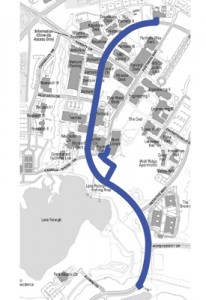 Depending on use and continued growth on Centennial Campus, the line will pay for itself in seven to nine years, Colby says.
Using reclaimed water for irrigation and other uses saves the university money and helps enhance the golf course's certified Audubon International Signature Golf Sanctuary status as an environmentally friendly course.
"This is a great initiative for NC State and enhances our overall dedication to maintaining a 'green' climate on campus," says LPGC general manager Chip Watson. "It also shows that the university can be a great partner with the city of Raleigh as we both work to be good stewards of our resources."
Between now and the end of construction in December, some street parking spaces will be closed down to maintain two lanes of traffic along Main Campus Drive. At least one lane of traffic will always be open for the duration of the project.
This article is written by Tim Peeler and originally appeared in NC State News.