A lifelong love of writing and an ardent dedication to avian conservation has led to the perfect passion project for Murry Burgess. Burgess, a fourth-year Ph.D. student in the Fisheries, Wildlife, and Conservation Biology program at NC State, recently completed her second children's book, "Sparrow Learns Birds."
"Sparrow Learns Birds" follows the story of a five-year-old Black girl who loves to explore the outdoors in her suburban neighborhood. The book, which is the first in a series, focuses on Sparrow watching all of the birds in her backyard and learning how to draw them and identify them by sight, sound and movement.
The book is anticipated to be published in the summer of 2023 by Christy Ottaviano Books, housed under Little, Brown Books. It's best suited for three- to eight- year-olds, especially children who are being read to or just beginning to learn how to read. Burgess said she hopes the book will teach children how to identify birds and learn to appreciate nature and that Sparrow can serve as a role model.
A Reflection of Her Own Childhood
In the book, the character of Sparrow is modeled after Burgess' childhood experiences. She drew inspiration from looking back at pictures of herself when she was little, when her love for the outdoors began. "I was involved a lot in the outdoors; there are pictures of me feeding ducks and pictures of me fishing," Burgess said. "I wanted more little kids like me to know they can do this stuff because I think my experience with that is rare."
Burgess, who studies avian ecology, added, "I wanted to make more books that represent minorities. There are hardly any books featuring Black characters or other minority characters, and I wanted to combine that with my love of birds and teach kids how to identify birds through a book."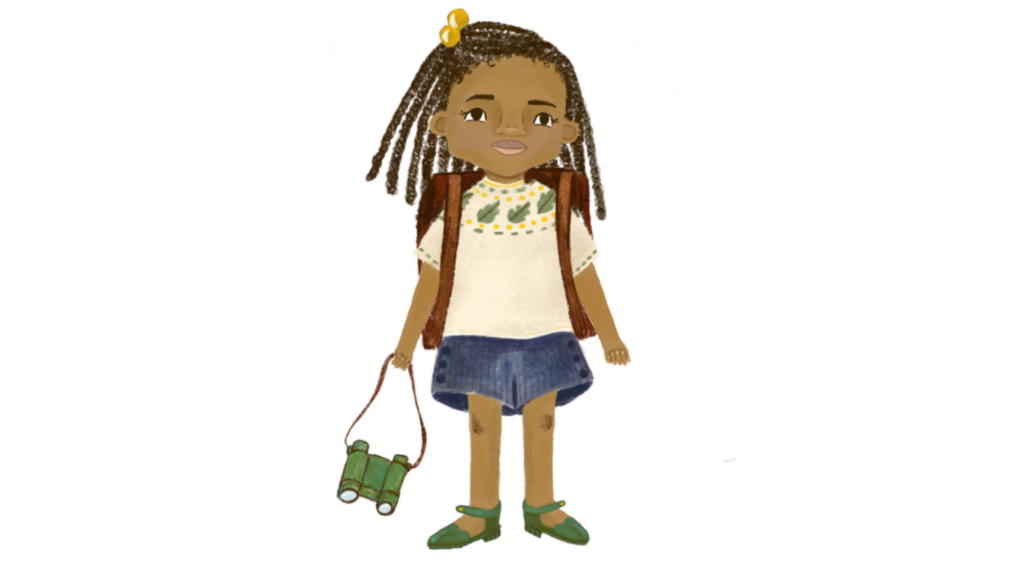 "Sparrow Learns Birds" is Burgess' second children's book. Her first book, "Why Wolves Howl," was self-published through Amazon during the winter of 2017. The picture book explains the origin of why wolves howl at the moon through a folktale narrative that follows a wolf that befriends the moon.
"I've been writing since I was a little kid," Burgess said. "My mom would always help me write down words, color the pictures and make little books as a kid, so I've always been writing. It just got to a point where I finally decided to publish a book."
Burgess already has two other books in the works, the next in the Sparrow series titled "Sparrow Learns Reptiles" and a middle-school level graphic novel about a chickadee. The latter will revolve around a chickadee named Chipper and his group of animal friends who go around solving environmental problems.
The Journey to NC State
In the winter of 2018, Burgess began writing "Sparrow Learns Birds." It was shortly after this time that she earned her bachelor's degree in wildlife, fisheries, and aquaculture from Mississippi State University, where she took her first ornithology course and immediately fell in love with avian ecology. Following graduation, Burgess enrolled in the NC State College of Natural Resources.
"I chose NC State because of the strong wildlife program and my advisor, Dr. Caren Cooper, had bird research experience, so I thought it would be a good fit for me," Burgess said.
Since joining NC State, Burgess has been especially active in promoting the representation of minority groups in conservation. Every year, for instance, she participates in Black Birders Week, a social media movement that celebrates Black naturalists and aims to break down stereotypes of Black people in the outdoors and STEM. Burgess sees the movement as the perfect opportunity to showcase who she is and what she does, effectively building community with other Black birders.
Burgess also recently began advocating for improved field safety for students of underrepresented groups at the College of Natural Resources. At the beginning of the pandemic, Burgess recruited the help of her advisor to secure funding for car magnets, safety vests, lightweight vests and other accessories for natural resources students engaged in field research. The program is supported by a donor-funded account that's managed by the college's Office of Diversity and Inclusion,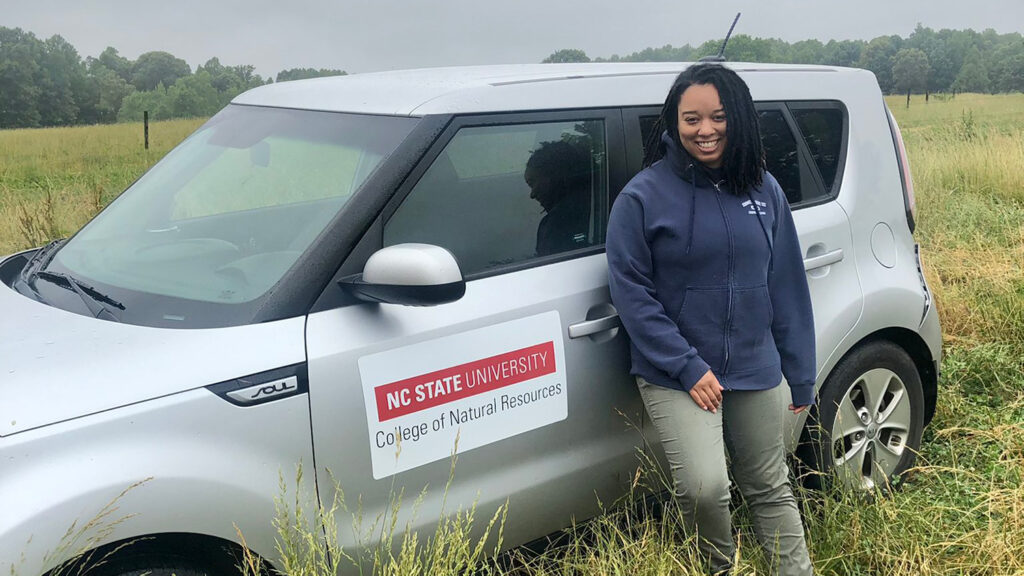 "My field site is a very rural area outside of Raleigh and I had to work out there by myself, especially in 2020 during the pandemic," Burgess said. "With all the unrest going on at that time, it really weighed on me that there really aren't a lot of field safety protocols in place."
When she's not spearheading such efforts, Burgess is conducting research on the impact of artificial lighting — a significant, widespread problem amid increasing urbanization — on the development of songbird chicks for her dissertation. Once she graduates, Burgess hopes to continue studying avian conservation, with the goal of eventually opening her own research and banding station.
Burgess said she has especially enjoyed her time in the college and hopes other students like herself can follow their dreams and get the most out of their experience. "The most important thing is to advocate for yourself," she said. "Make sure you are doing something you enjoy doing. If you need extra help or resources, just talk to somebody, ask around; it's definitely okay to ask questions and communicate your needs."
This post was originally published in College of Natural Resources News.